Meet the Team at Marketplace Chiropractic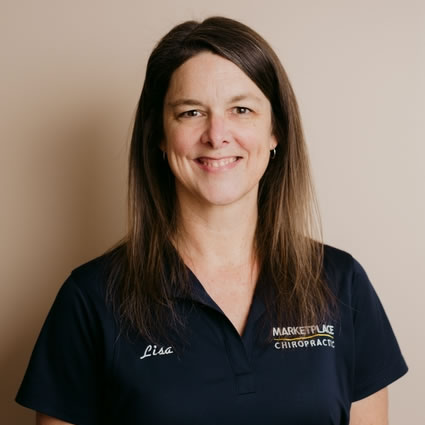 Lisa Brennan, B.A. Hons Spanish
Office Manager and Public Relations Assistant
Lisa was born in Kingston, Ontario and grew up in the 1000 Islands region, just outside of Brockville. A typical small town country girl, she loved to ride her bike to the beach in the summers and cross country ski in the woods in the winters. She was very active in school, playing many sports, her favourites were basketball and volleyball. She got the opportunity to participate in a student exchange program in grade 11 and after 3 months in Spain, realized her love of languages. That led to her enrolling in the University of Ottawa in the Honours Spanish program. After studying her third year at the Universidad de Malaga, Spain, and becoming fluent in the language, she graduated with her Bachelor of Arts degree, graduating cum laude.
After working for many years as a park ranger at a campsite, Lisa grew to love the tourism industry and the fact that you could meet people from all over the world. That experience and her language skills landed her a job as a destination representative in Cancun, Mexico for Signature Vacations. After one year abroad, she decided that living life out of a suitcase was not the life for her so she settled back into Ottawa where she continued working for Signature Vacations as a business development rep.
Lisa became aware of the benefits of chiropractic care as she became a patient while pregnant with her second child. She instantly felt right at home with the team at Marketplace Family Chiropractic and embraced the warm, friendly atmosphere and positive energy that filled the room. She has learned a lot about the body's amazing ability to heal itself and truly believes that we have the power to be physically, emotionally and spiritually healthy if we include regular chiropractic care as part of our self-care routine.
Lisa continues to learn about ways to enrich the health and happiness of herself and her family. She has a wonderful husband and is blessed with two beautiful children, Ella and Wesley. She loves just being a family and seeing life through the eyes of a child. When she has some down time, she enjoys camping, hiking, biking, rollerblading, reading and travelling.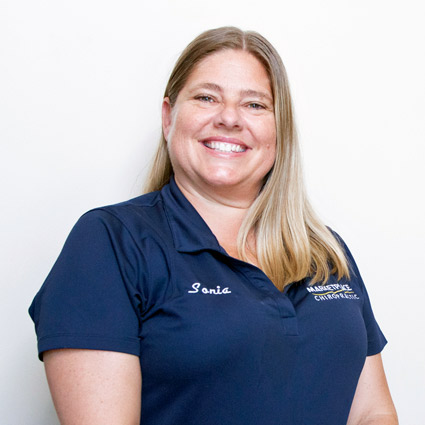 Sonia
Chiropractic Assistant
Sonia was born and raised in Ottawa. She graduated from Algonquin College with an Office Administration diploma and spent a few years in the finance industry. A couple more years of education and training later, she completed her life insurance license. She has been helping families protect their loved ones now for over twenty years!
In 2005, what started out as helping a friend watch her little one in the early mornings turned into a full daycare. These were some of her most enjoyable times. The daycare closed after 10 wonderful years and she spent a year and a half concentrating on her own family. Looking for a new way to help others, Sonia joined the team at Marketplace Chiropractic.
...Read More about Sonia »
Family is the most important thing in her life. Sonia and her husband of over 2 decades, Piero, have three very active children who play, coach and referee a variety of sports. The family enjoys travelling and have been on several cruises and loves Disney. Her mantra in life is to always smile, always follow your dreams, work hard but love harder. Life will reward those who do….so do everyday!
---

Meet the Team at Marketplace Chiropractic | 613-823-1255