About Marketplace Chiropractic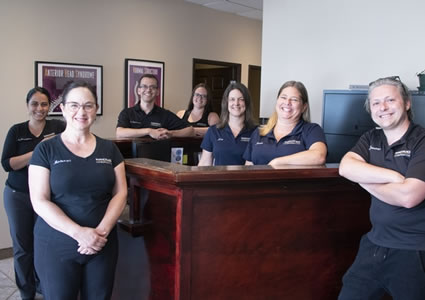 From the moment you step foot into our practice, we hope you feel like a part of our family-because that's what you are. Our warm, family-friendly practice can provide care for every member of your household-from the youngest member to the oldest, and everyone in between. In fact, we regularly see entire generations of families in our care-some have been with us for more than 15 years!
We want to build a healthy, happy community, and we hope you will be a part of it.
Our mission is to provide the best neurostructural care possible to our patients, which means restoring proper function in their bodies, allowing them to enjoy life again.
Educating and Advocating for Patients
When you choose us for your care, know that you are choosing a chiropractor unlike any other. We believe in helping patients understand why they are experiencing pain and dysfunction-after all, it is your body, and you have every right to know what is really going on inside of it.
We frequently have patients tell us that they have never had a doctor be so incredibly thorough in their care and explanation of conditions before-and that is exactly what we will do for you.
More so, we believe in supporting patients making their decisions when it comes to receiving health care-we will never push you into any care that you don't want. We will make our best recommendations based on your history and our exam findings. These recommendations will be designed to get you back to feeling your best as quickly as possible and to address the correction of the underlying cause of the problem; accepting the care plan is entirely up to you.
At Marketplace Chiropractic, you're an active partner in your health, and we wouldn't have it any other way.
MEET OUR DOCTORS
Reserve Your Time with Dr. Mike
We'd love the chance to meet you and your family. If you would like to learn more about how focused, natural chiropractic care can help you, please contact us today to reserve an appointment.
We are excited to welcome you into the practice!

About Marketplace Chiropractic | 613-823-1255