Meet Our Registered Massage Therapists at Marketplace Chiropractic
Get to know Us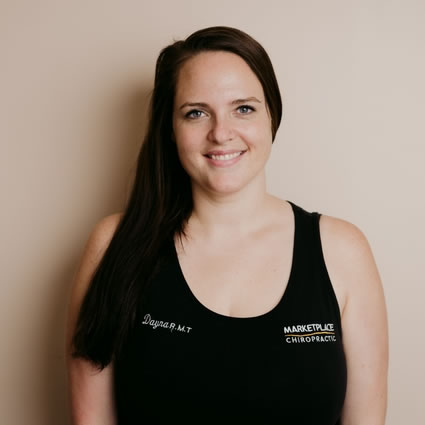 Dayna Holtom has been around chiropractors since she was very young. In fact, she was just a few hours old when she had her first adjustment. It was only natural that she decided to enter the field of natural health care and chose to study massage therapy at Algonquin College, where she graduated in 2010.
Born and raised in Dunrobin, a small town on the Ottawa River, Dayna has always loved outdoor activities, like boating in the summer and ski-dooing in the winter. She also likes Hip-Hop and was a competitive dancer for several years. Dayna's travels have taken her across Canada, throughout the British Isles, and as far away as Bali.
Dayna started her massage therapy career at a downtown day spa where she mastered the balance between relaxation and therapeutic massage. After seeing more than 600 clients in the spa environment, she decided to join us at Marketplace Chiropractic because she loves witnessing the immediate benefits clients experience with massage therapy in conjunction with chiropractic.
In 2018 Dayna welcomed her son Grayson into the world. She absolutely loves being a mother, massaging him after his baths, and looks forward to raising him in Barrhaven.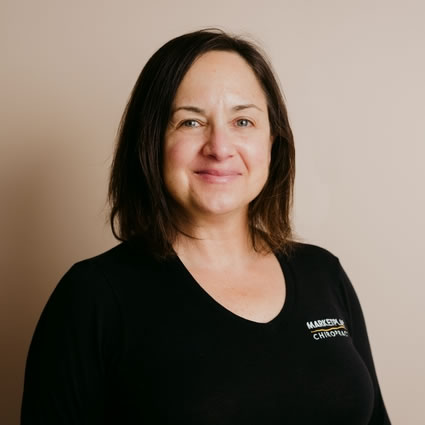 Marla is a thriving Ottawan since moving here from Toronto in 2012. Her inspiration to become a massage therapist in 2000 came from using her hands to comfort her grandparents in their later years.
She has worked as a massage therapist with physiatrists and pain management physicians, with physiotherapists as well as with her brother in his chiropractic clinic. She recognizes therefore, the great fit that massage therapy makes for safe and effective care working alongside Drs. Mike and Nancy.
Marla has worked with a rich array of clients from young students to long-time office workers, from amateur athletes to physically challenged people, and from new moms to active grandparents.
With Marla's depth and experience, you are in 'good hands'. Introduce her to your achy muscles and joints and she will work with your preferences, in a safe and quiet space, to achieve optimal healing.
Marla enjoys fine film, art and garden projects, trying new recipes and exploring nature.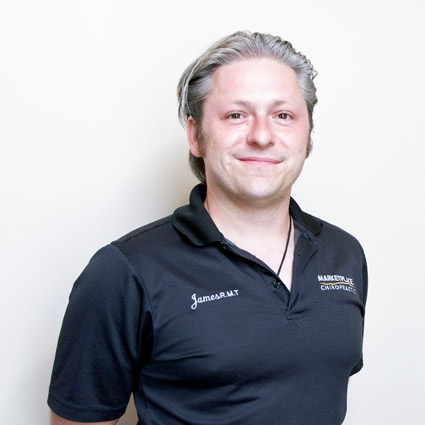 James grew up in Trenton, Ontario and graduated in 2010 from the Algonquin College Massage Therapy program and has developed excellent skills as a registered massage therapist. He is a professional and compassionate therapist with experience in lymphatic drainage, joint mobilizations, neuromuscular techniques, and gait assessment.
James has been doing massage since before he knew what massage was. At a young age he started massaging his parents and relatives which grew into a passion for the healing power of touch.
James loves traveling, coin collecting, and reading.
James believes more people can become healthy and benefit from the therapeutic touch of massage therapy. He enjoys the rewarding relationships he has built with his clients to help them lead healthier lives, and would love to meet you too.
Explore Our Massage Therapy Services

Meet Our Registered Massage Therapists at Marketplace Chiropractic | 613-823-1255