Meet Dr. Nancy Salgueiro, B.Sc., D.C., F.I.C.P.A.
Choosing the Right Path
I knew I chose the right path when I attended my first pediatric seminar. Understanding why chiropractic is most important for children triggered my passion for helping families reach their fullest potential."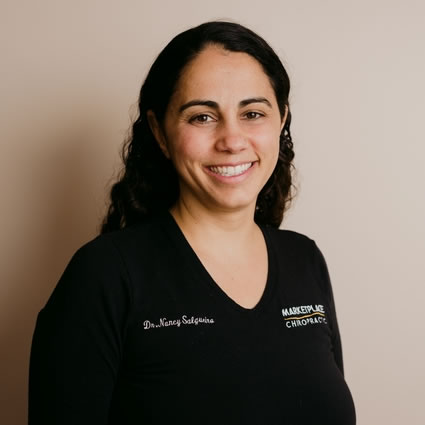 Dr. Nancy Salgueiro always knew her passion was helping others. Her first job was as a home care worker, caring for the elderly and disabled children. This experience and volunteering in the emergency room led her to pursue health care as a career, originally planning on becoming a physician.
After beginning her Bachelor of Science degree at the University of Manitoba, Dr. Nancy could no longer stand the chronic mid back pain and migraines she suffered from.
"Since junior high school I suffered from excruciating migraines, they interfered with school and my ability to spend time with family and friends." On the advice of friends, she started chiropractic care. "The back pain and migraines went away, and I soon realized what it meant to feel great. I continue my chiropractic care because I want to feel this fantastic all the time. I love it!"
The Human Body is Meant to be Healthy
As she continued her university studies, focusing on science and the human body, and through the education she received from her chiropractor, she realized "the human body is meant to be healthy and it makes much more sense to support normal function then to mask symptoms with drugs." This realization and the great success she had with her own chiropractic experience led Dr. Nancy into her chiropractic career.
EXPLORE OUR SERVICES
Chiropractic Education
Dr. Nancy completed her Bachelor of Science degree in microbiology and physiology, graduating with honors in 1999.
She then moved to Marietta, Georgia to begin the intense 4-year chiropractic program at Life University, graduating in 2003. She has since continued her education with post doctorate seminars in neuroimmunology and nutrition and has also become a childbirth educator, mentor, and doula. Dr. Nancy is a recipient of the Nepean Chamber of Commerce Professional Service Award.
Dr. Nancy is a Fellow of the International Chiropractic Pediatric Association & Childbirth Mentor.
Outside of the Practice
Dr. Nancy homeschools her three children and enjoys traveling. She likes spending time in nature, hiking, camping, biking and kayaking; especially with her family and dog Sarah.
She is currently in a supportive role at Marketplace Chiropractic. Her love for supporting women in pregnancy and childbirth is consuming her time authoring books on pregnancy and birth, supporting women in birth as a doula, teaching live childbirth empowerment courses, and developing a complete online childbirth empowerment curriculum and community. She also hosts two of Marketplace Chiropractic's community support groups, Pathways Connect for holistic minded parents and Positive Birth for expectant families. She was also cofounder and panel facilitator of the CHOICE! A Birth and Baby Film Festival.
Learn more about Dr. Nancy and meet her when you join one of our community gatherings. Contact us today!

Dr. Nancy Salgueiro | 613-823-1255