Meet Dr. Mike Carreira, B.Sc., D.C., C.A.C.C.P.
A Life-Changing Experience with Chiropractic Care
I was in so much pain, I couldn't stand it anymore. I am so thankful for my first chiropractor; he changed my life."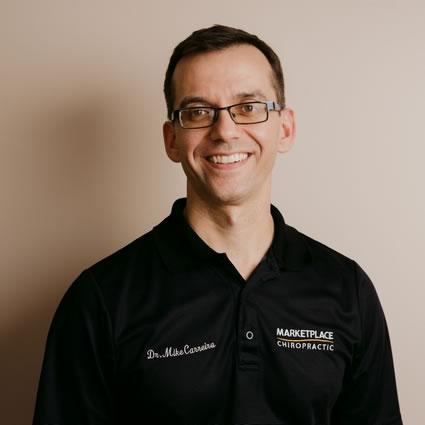 Award winning chiropractor Dr. Mike Carreira is passionate about helping your family reach their optimal potential. As a student he volunteered at a local hospital and really enjoyed working with the staff and helping patients. He originally thought to pursue a career in physiotherapy until he had his first major injury.
Working at a courier shipping warehouse, Dr. Mike injured himself lifting heavy boxes with poor technique. Constant excruciating pain eventually led him to follow the advice of friends and family to see a chiropractor. After experiencing the benefits of chiropractic care firsthand and learning more about the profession and its natural and non-invasive approach, Dr. Mike knew he had found a profession that felt right; natural and effective.
Chiropractic Education
Dr. Mike completed his 4-year Bachelor of Science degree with honors in 1999, focusing on microbiology and physiology. He then left for Marietta, Georgia to complete the intense 4-year Doctor of Chiropractic Program at Life University, the largest chiropractic school in the world. With so much available, he became proficient in multiple techniques, such as Full Spine, Diversified, Thompson, Sacro Occipital Technique, Activator and Webster's Technique. The exposure to a variety of chiropractic methods gave Dr. Mike the ability to modify adjustments to his patients needs and desires.
Read More of Dr. Mike's Education »
Dr. Mike served on the executive of the Sacro Occipital Technique Club at
Life University
where he taught Sacro Occipital Technique to chiropractic students.
He has also completed hundreds of hours of post doctorate training seminars studying neuroimmunology, pediatric adjusting, perinatal care, developmental neurobiology, neurology, rehabilitation, nutrition, and extremity adjusting procedures. Dr. Mike is always upgrading his skills so he can provide state of the art care based on the newest chiropractic research.
With an interest in family care, Dr. Mike has completed the extensive 200-hour pediatric certification program with the International Chiropractic Pediatric Association (ICPA) and has been involved in the ICPA's Practice Based Research Network, contributing to research in the field of chiropractic wellness and pediatric care. Dr. Mike obtained his Webster Technique Certification in 2001, which is often used in pregnancy to ensure proper pelvic alignment and movement.
Sharing Chiropractic
In his pursuit to share chiropractic, Dr. Mike went on a chiropractic mission trip to India, which proved to be a life changing experience. He will never forget working with one little girl who went from no more than 3 steps without falling, to crossing a large room on her own to her waiting mother. He brought that passion back to Canada and now spends his time sharing chiropractic with Barrhaven and the surrounding areas.
The Neurostructural Approach
"I love going to work; I really love the energy in the office. Practicing neurostructural chiropractic, eliminating the actual underlying primary condition is so rewarding. When the foundation gets stabilized, people actually get well and can get back to enjoying the beautiful things in life.'"
Dr. Mike has been in active practice since 2004. Over the years he has blended his knowledge from multiple techniques taught at university, certification programs, and ongoing continuing education. He has developed his personal approach, centered on neurostructural correction, and has been getting his patients great results.
EXPLORE OUR SERVICES
Outside of the Practice
Dr. Mike enjoys traveling, camping, and spending time with his three children, Leilani, Taivus, and Oziah. His kids were all born naturally at home and have been under chiropractic care since birth. Board games, healthy family meals, staying active with family bike rides, and walking the dog are some of the ways Dr. Mike likes to enjoy his time.
Dr. Mike and his wife Dr. Nancy are the only husband and wife chiropractic team in Barrhaven. Together they started Marketplace Chiropractic to make sure their community had access to the highest quality chiropractic care for the whole family. Discover what we can do for you today!

Dr. Mike Carreira | 613-823-1255